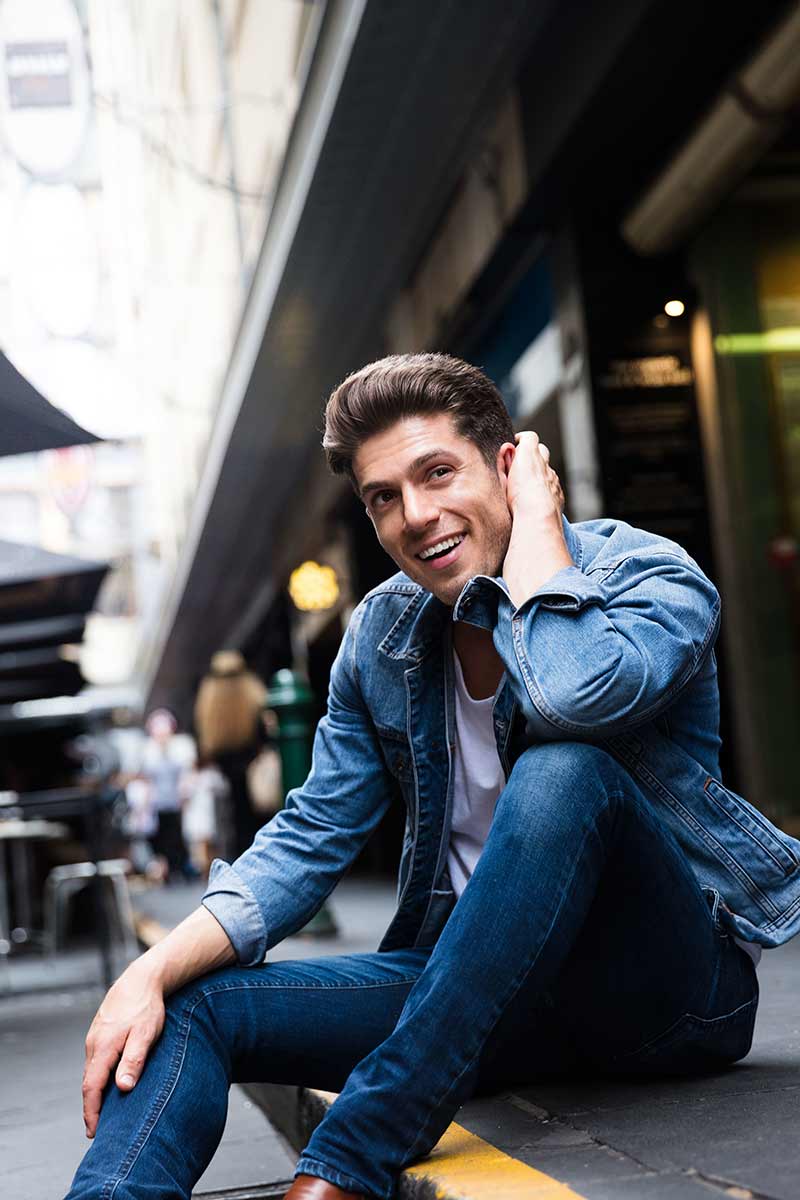 Port Fairy Spring Music Festival presents Songs with Josh Piterman
This web page is about the 2021 Autumn Gala Concerts. Details of 2022 events will be announced soon.
Port Fairy Spring Music Festival will be presenting an exclusive Autumn Gala event featuring Musical Theatre Superstar Josh Piterman to take place in the Reardon Theatre Port Fairy on 30 April and 1 May 2021.
In this special event, leading up to the annual Port Fairy Spring Music Festival in October, Josh Piterman will perform favourite works in two extraordinary performances, accompanied by Festival co-Artistic Director Stefan Cassomenos at the piano, with guest appearances by stellar singers Leah Oswin and Anna-Lee Robertson, and the Autumn Gala Male Choir.
As an established musical theatre performer and classical crossover artist, Josh has toured the world over the past 15 years performing as part of Westside Story, Cats, Hairspray, Beautiful: The Carole King Musical and now as the newest star to grace the stage in the leading role of The Phantom of the Opera.
Port Fairy Spring Music Festival presents Songs with Josh Piterman on Friday 30 April at 7.30pm and Saturday 1 May at 2.30pm.
THESE CONCERTS HAVE BEEN HELD AND TICKETS ARE NO LONGER AVAILABLE
_____________________________________________________________________________________________________
Tickets are provided through our on-line ticketing services partner Ferve Tickets. Please note that this is the service used for ticketing in 2016 to 2019 and for Friends subscriptions and donations. Please use your Ferve account or register for a new account to complete your purchase. The 5Stream account you may have used for 2020 digital concerts is not applicable.
Your tickets will be emailed to you when you have completed and paid for your order. You can also access them by logging into your account.
SEATING IS NOT ALLOCATED FOR THESE CONCERTS.
If we have to cancel or re-schedule a concert, we will fully refund the cost of tickets or replace your tickets with tickets to the new concert, whichever you prefer.
___________________________________________________________________________________________
Josh Piterman appears courtesy of Opera Australia
The Port Fairy Spring Music Festival acknowledges the support of the Victorian State Government through Creative Victoria and Moyne Shire Council.